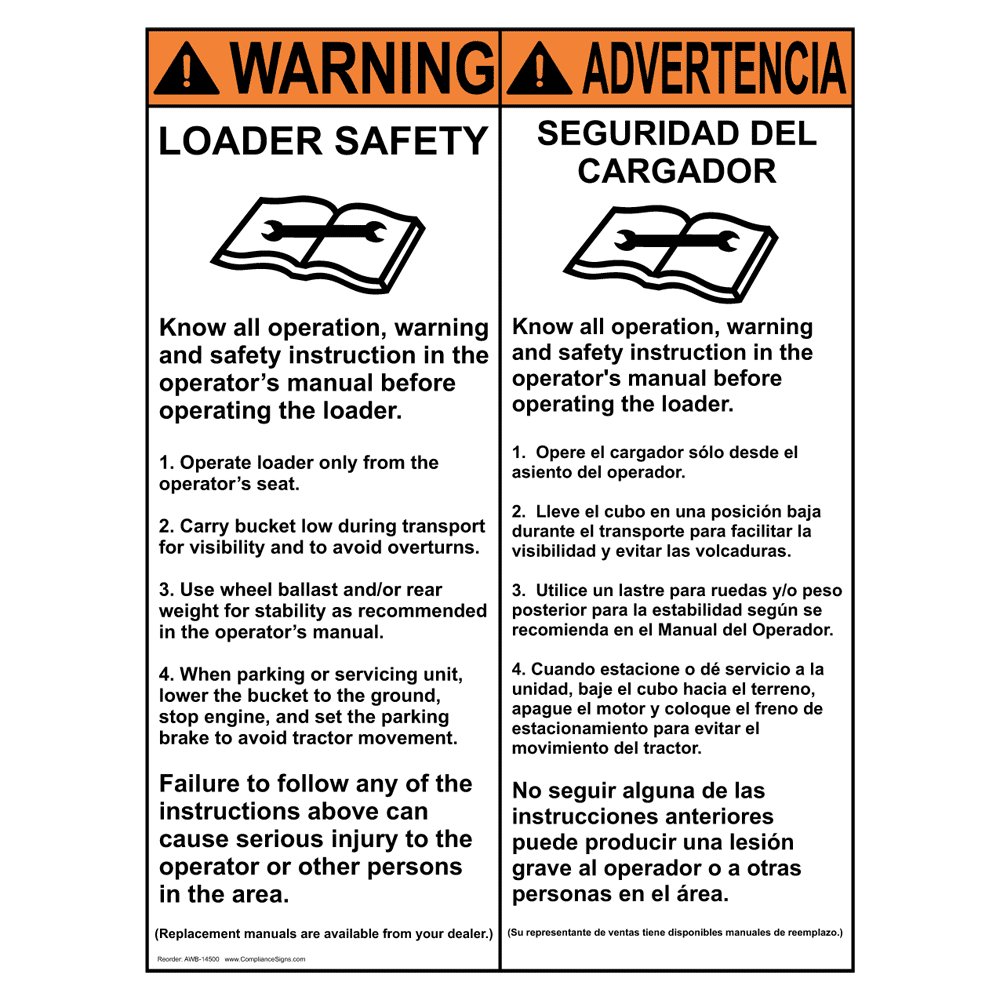 English + Spanish ANSI WARNING LOADER SAFETY Know all operation, warning and safety Sign With Symbol
Estimated shipping date:
...loading
Product details
---
Mounting option
Self-Adhesive
Wording
LOADER SAFETY Know all operation, warning and safety instruction in the operator's manual before operating the loader. 1. Operate loader only from the operator's seat. 2. Carry bucket low during transport for visibility and to avoid overturns. 3. Use wheel ballast and/or rear weight for stability as recommended in the operator's manual. 4. When parking or servicing unit, lower the bucket to the ground, stop engine, and set the parking brake to avoid tractor movement. Failure to follow any of the instruction above can cause serious injury to the operator or other persons in the area. (Replacement manuals are available from your dealer.) - SEGURIDAD DEL CARGADOR Revise todas las instrucciones de operación, advertencias e instrucciones de seguridad en el Manual del Operador antes de operar el cargador. 1. Opere el cargador sólo desde el asiento del operador. 2. Lleve el cubo en una posición baja durante el transporte para facilitar la visibilidad y evitar las volcaduras. 3. Utilice un lastre para ruedas y/o peso posterior para la estabilidad según se recomienda en el Manual del Operador. 4. Cuando estacione o dé servicio a la unidad, baje el cubo hacia el terreno, apague el motor y coloque el freno de estacionamiento para evitar el movimiento del tractor. No seguir alguna de las instrucciones anteriores puede producir una lesión grave al operador o a otras personas en el área. (Su representante de ventas tiene disponibles manuales de reemplazo.)
Description
English + Spanish ANSI WARNING Transportation Label
This ANSI-format Truck Safety label / sticker makes your Transportation message clear in two languages.
New, US-made ANSI WARNING safety label is UV, chemical, abrasion and moisture resistant.
Sign colors conform to ANSI Z535.1 standards for Safety Color Code.
Substrate is flexible vinyl label stock with permanent adhesive.
Labels have self-adhesive backing - just peel and stick.
Printed with UV-stable ink and suitable for indoor or outdoor use at service temperatures from -40 to +180 F.
Click Add To Cart to order this bilingual ANSI Truck Safety label today.
Customers who bought this also consider
---