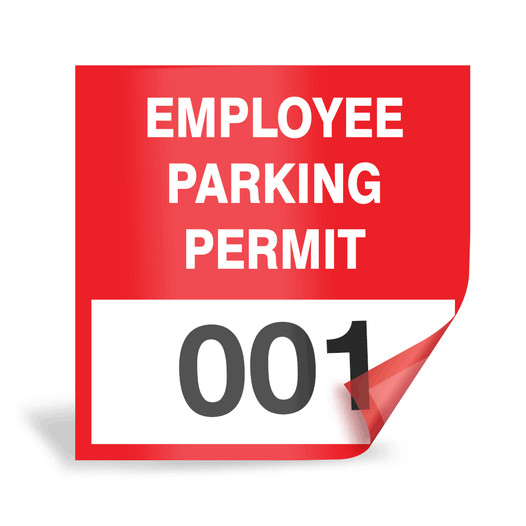 Employee Parking Permit Window Decals
EmployeeParkingPermitCling
Product details
---
Mounting option
Self-Adhesive
SKU
EmployeeParkingPermitCling
null
Wording
Employee Parking Permit
Description
3-inch Square Parking Permits for Employees - Window Clings
Our static-cling employee parking permit stickers are numbered to easily identify individual vehicles and help keep your employee lot in order.
Why Use Cling Sticker Permits for Employee Parking?
Cling parking permits are popular for staff parking lots for several reasons:
Cling stickers are easy to apply to windshields, side or rear windows because they are not adhesive
3 x 3-inch size is easy to read
Cling permits are less likely to be lost or stolen than hang tags
Window cling permits are applied low on the window and don't impair driver vision
No sticky adhesive residue
Employee cling permits mount inside the vehicle for viewing from the outside
Color and Number Variations Offer Parking Flexibility

Employee lots often are divided into separate areas for different shifts, teams or seniority levels. Our employee permit cling stickers are available in 4 colors that can be used to easily identify which lot or area a vehicle belongs in.
Color choices: red, blue, green, yellow
Consecutive numbering options range from 001-099 to 900-999, in packs of 100
Top-Quality Employee Window Permit Clings from ComplianceSigns.com
Our economical staff windshield cling stickers are made from top-quality materials for long, trouble-free use by your employees:
Printed on 7-mil vinyl film
Static front clings without adhesive to clean, smooth glass
Resists scratches, moisture and fading
Stays firmly in place
Can be repositioned or removed easily
Proudly made in the USA
Easy to order
Considerations For Your Employee Parking Lot Permits
Our cling sticker employee parking permits are a great choice for many employee lots, but there are some situations when a traditional hang tag might be a better choice. Window clings are best suited for long-term use. They can be moved, but easily pick up dust or dirt if not handled with care. If your employees are still putting colored paper parking passes on their dashboards, it's time to step up to convenient, affordable cling stickers from ComplianceSigns.com.