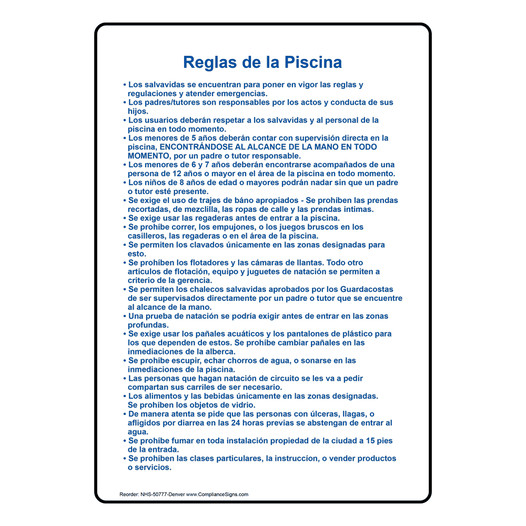 Denver Reglas de la Piscina Sign
Product details
---
Mounting option
Surface Mount
SKU
NHS-50777-Denver
CS233112
Wording
Reglas de la Piscina - Los salvavidas se encuentran para poner en vigor las reglas y regulaciones y atender emergencias. - Los padres/tutores son responsables por los actos y conducta de sus hijos. - Los usuarios deberán respetar a los salvavidas y al personal de la piscina en todo momento. - Los menores de 5 años deberán contar con supervisión directa en la piscina, ENCONTRÁNDOSE AL ALCANCE DE LA MANO EN TODO MOMENTO, por un padre o tutor responsable. - Los menores de 6 y 7 años deberán encontrarse acompañados de una persona de 12 años o mayor en el área de la piscina en todo momento. - Los niños de 8 años de edad o mayores podrán nadar sin que un padre o tutor esté presente. - Se exige el uso de trajes de báno apropados - Se prohíben las prendas recortadas, de mezclilla, las ropas de calle y las prendas íntimas. - Se exige usar las regaderas antes de entrar a la piscina. - Se prohíbe correr, los empujones, o los juegos bruscos en los casilleros, las regaderas o en el área de la piscina. - Se permiten los clavados únicamente en las zonas designadas para esto. - Se prohíben los flotadores y las cámaras de llantas. Todo otro artículos de flotación, equipo y juguetes de natación se permiten a criterio de la gerencia. - Se permiten los chalecos salvavidas aprobadoas por los Guardacostas de ser supervisados directamente por un padre o tutor que se encuentre al alcance de la mano. - Una prueba de natación se podría exigir antes de entrar en las zonas profundas. - Se exige usar los pañales acuáticos y los pantalones de plástico para los que dependen de estos. Se prohíbe cambiar pañales en las inmediaciones de la alberca. - Se prohíbe escupir, echar chorros de agua, o sonarse en las inmediaciones de la piscina. - Las personas que hagan natación de circuito se les va a pedir compartan sus carriles de ser necesario. - Los alimentos y las bebidas únicamente en las zonas designadas. Se prohíben los objetos de vidrio. - De manera atenta se pide que las personas con úlceras, llagas, o afligidos por diarrea en las 24 horas previas se abstengan de entrar al agua. Se prohíbe el fumar a 15 pies de distancia de las entradas de todas las instalaciones propiedad de la ciudad. - Se prohíbe fumar en toda instalación propiedad de la ciudad a 15 pies de la entrada. - Se prohíben las clases particulares, la instruccíon, o vender productos o servicios.
Description
Denver Reglas de la Piscina Sign on Aluminum, Plastic or Label Substrate
Use this easy-to-read Swimming Pool sign to make your Recreation message clear to employees and visitors. It is available in 6 sizes to meet your needs.
US-made sign is UV, chemical, abrasion and moisture resistant for long life in a variety of environments.
Substrate choices:

- Rigid AL-Plus 3-mm aluminum composite
- Semi-rigid 1mm PVC plastic
- Flexible vinyl label stock with permanent adhesive
(Select material and size above)

Aluminum and plastic signs have holes in each corner for easy mounting.
Labels have self-adhesive backing - just peel and stick to a clean, dry surface.
All are printed with UV-stable ink and are suitable for indoor or outdoor use at service temperatures from -40 to +180 F.
These signs and labels are made-to-order, and most orders ship within 2 business days from the ComplianceSigns manufacturing facility.
Click Add To Cart to order this Swimming Pool sign today.
Our NEW AL-Plus Aluminum is a rigid and durable aluminum composite comprised of two sheets of aluminum laminated to a thermoplastic core. It is thicker and stiffer than our standard aluminum, and durable for 10 years outdoors. We are substituting this upgraded material (at no additional cost) because the supply of traditional aluminum has become unreliable. Switching to AL-Plus helps avoid delays producing your signs. We are confident you will be pleased with AL-Plus aluminum signs.
Customers who bought this also consider
---