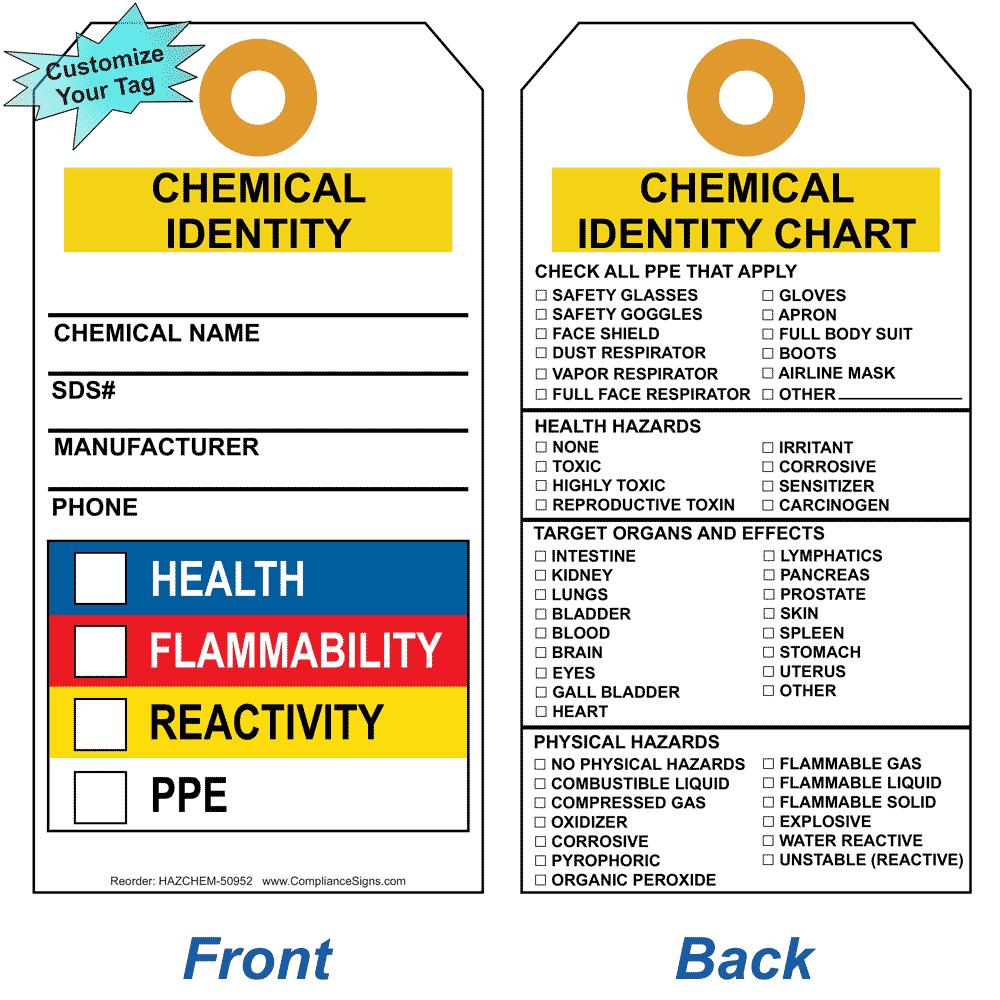 Chemical Identity - PPE and Hazard Checklist Tag with Tie
Estimated shipping date:
...loading
Product details
---
Wording
CHEMICAL IDENTITY CHEMICAL NAME ____ SDS# ____ MANUFACTURER ____ PHONE ____ HEALTH FLAMMABILITY REACTIVITY PPE - CHEMICAL IDENTITY CHART CHECK ALL PPE THAT APPLY SAFETY GLASSES GLOVES SAFETY GOGGLES APRON FACE SHIELD FULL BODY SUIT DUST RESPIRATOR BOOTS VAPOR RESPIRATOR AIRLINE MASK FULL FACE RESPIRATOR OTHER ____ HEALTH HAZARDS NONE IRRITANT TOXIC CORROSIVE HIGHLY TOXIC SENSITIZER REPRODUCTIVE TOXIN CARCINOGEN TARGET ORGANS AND EFFECTS INTESTINE LYMPHATICS KIDNEY PANCREAS LUNGS PROSTATE BLADDER SKIN BLOOD SPLEEN BRAIN STOMACH EYES UTERUS GALL BLADDER OTHER HEART PHYSICAL HAZARDS NO PHYSICAL HAZARDS FLAMMABLE GAS COMBUSTIBLE LIQUID FLAMMABLE LIQUID COMPRESSED GAS FLAMMABLE SOLID OXIDIZER EXPLOSIVE CORROSIVE WATER REACTIVE PYROPHORIC UNSTABLE (REACTIVE) ORGANIC PEROXIDE
Description
Plastic Chemical Identity - PPE and Hazard Checklist Safety Tag with Cable Tie and Custom Text Option
Use this Chemical safety tag to clearly identify hazardous or potentially hazardous chemicals and share important safety information.
Enter your custom text in the box above and we'll print it directly on all your tags at no extra charge. Or, leave blank to complete your tags on site.
US-made hazchem safety tag is manufactured of 0.015 flexible PVC plastic with a 3/8-in. inside-diameter metal grommet.
Tag with tie is certified to exceed 50-lb. pull test, meeting OSHA Standard 1910.147 for strength.
Printed with UV stable ink and covered with a clear laminate that resists UV, chemicals, abrasion and moisture for long life.
Suitable for indoor or outdoor use in business and industrial environments up to +150 F.
Choose 7-in. or 11-in. cable tie to suit your application. (Select above)
ComplianceSigns hazchem safety tags are made-to-order, and most orders ship within 2 business days from our U.S. manufacturing facility.
Click Add To Cart to order this Hazmat safety tag today.