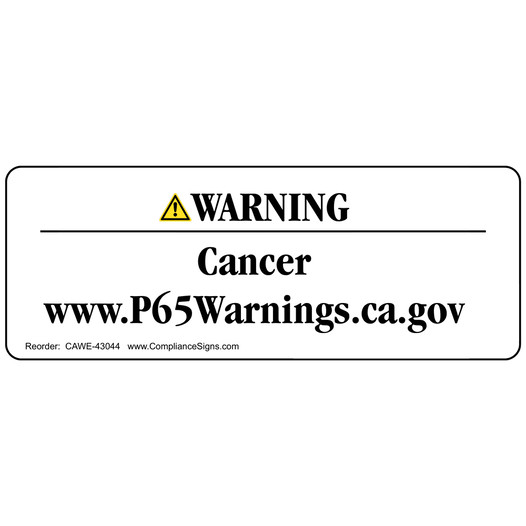 CA Prop 65 Cancer Warning Product Label
Product details
---
Construction
Poly Roll Label
Mounting option
Self-Adhesive
SKU
CAWE-43044
CS323211
SC161047, SC161048
Wording
WARNING: Cancer - www.P65Warnings.ca.gov
Description
California Prop 65 Cancer Short-Form Consumer Product Exposure Warning Labels in 2 Sizes
Use these labels to post your short-form Prop 65 warning on consumer products, in accordance with guidance from the CA.gov site.
PLEASE NOTE: Prop 65 rules require the text on short-form labels to be equal to or larger than the largest text used for other consumer information on your product. We offer this label in 2 text sizes on slightly different materials:

- 1 x 3/8-inch vinyl label with 6-point type, on sheets of 100 labels
- 3 x 1-inch poly label with 18-point type, on rolls of 100, 250 or 500 labels
(Choose material above)


Vinyl labels have a gloss finish and permanent adhesive.
Poly labels have a matte finish and light-duty, permanent adhesive.
These labels must be applied to a clean, dry surface at temperatures above +23 F.
Poly labels include a cardboard dispenser box that protects unused labels and makes application easy - just pull, peel and stick.
ComplianceSigns.com labels are made-to-order in the USA. Most orders ship within 2 business days from our manufacturing facility.
Click Add To Cart to order Prop 65 short-form product Cancer warning labels today.
Have questions about Prop 65 sign requirements for your business?
You're not alone. ComplianceSigns contacted the OEHAA (Prop 65 Office) and we were directed not to give any advice on whether a sign is correct for a particular location or application. You must make the decision on sign necessity based on your knowledge of your business, the types of chemicals that are present and the approach you take to comply with the new Prop 65 regulations. You can download our Prop 65 Resource Bulletin and FAQ for information (pdf), or call the Prop 65 Office at 916-445-6900 with questions.