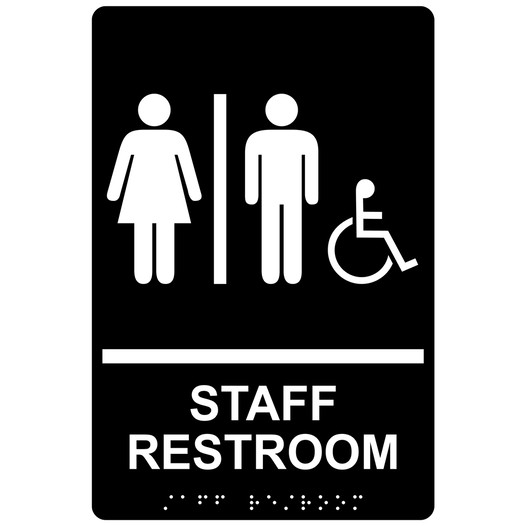 Black ADA Braille Accessible Staff Restroom Sign With Symbol
SKU: RRE-14834_White_on_Black
Product details
---
Construction
Tactile + Braille
Mounting option
Surface Mount
SKU
RRE-14834_White_on_Black
CS713190
Wording
STAFF RESTROOM (Braille = staff restroom)
Description
Portrait Black Acrylic STAFF RESTROOM Sign with Text, ADA Braille and Symbol
This English + Braille Restrooms sign in White-on-Black colors is durable, attractive and ADA-compliant.
Provides visual, tactile and Grade 2 Braille information to assist all employees and visitors.
Designed to meet Federal ADA / ADAAG guidelines for content, symbol design, text style, Braille translation and color contrast.
Braille dots meet ADA and California requirements for size, shape and spacing.
1/16-in. acrylic substrate is laminated to a precision-cut, 1/32-in. tactile top layer.
Matte-finish acrylic reduces reflections and glare for better visibility.
Includes adhesive mounting strips for easy installation.
Proudly made in the USA.
Click Add To Cart to order this two-color, ADA Braille Restroom General sign today.
This Sign Ships Fast! Buy it today and we'll ship it out within 24 hours. Look for the 1-DAY SHIPPING icon for more signs that ship in 1 day.