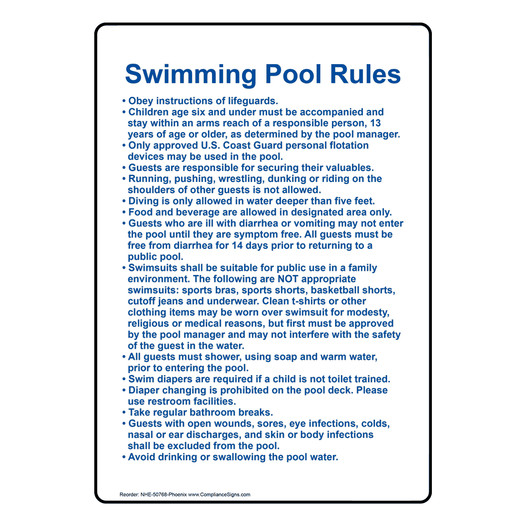 Arizona - Phoenix Swimming Pool Rules Sign
Product details
---
Mounting option
Surface Mount
SKU
NHE-50768-Phoenix
CS653539
Wording
Swimming Pool Rules - Obey instructions of lifeguards. - Children age six and under must be accompanied and stay within an arms reach of a responsible person, 13 years of age or older, as determined by the pool manager. - Only approved U.S. Coast Guard personal flotation devices may be used in the pool. - Guests are responsible for securing their valuables. - Running, pushing, wrestling, dunking or riding on the shoulders of other guests is not allowed. - Diving is only allowed in water deeper than five feet. - Food and beverage are allowed in designated area only. - Guests who are ill with diarrhea or vomiting may not enter the pool until they are symptom free. All guests must be free from diarrhea for 14 days prior to returning to a public pool. - Swimsuits shall be suitable for public use in a family environment. The following are NOT appropriate swimsuits: sports bras, sports shorts, basketball shorts, cutoff jeans and underwear. Clean t-shirts or other clothing items may be worn over swimsuit for modesty, religious or medical reasons, but first must be approved by the pool manager and may not interfere with the safety of the guest in the water. - All guests must shower, using soap and warm water, prior to entering the pool. - Swim diapers are required if a child is not toilet trained. - Diaper changing is prohibited on the pool deck. Please use restroom facilities. - Take regular bathroom breaks. - Guests with open wounds, sores, eye infections, colds, nasal or ear discharges, and skin or body infections shall be excluded from the pool. - Avoid drinking or swallowing the pool water.
Description
Phoenix Swimming Pool Rules Sign on Aluminum, Plastic or Label Substrate
Use this easy-to-read Swimming Pool sign to make your Recreation message clear to employees and visitors. It is available in 6 sizes to meet your needs.
US-made sign is UV, chemical, abrasion and moisture resistant for long life in a variety of environments.
Substrate choices:

- Rigid AL-Plus 3-mm aluminum composite
- Semi-rigid 1mm PVC plastic
- Flexible vinyl label stock with permanent adhesive
- Heavy duty, flexible magnetic backing that clings to ferrous metals (not stainless steel)

(Select material and size above)

Aluminum and plastic signs have holes in each corner for easy mounting.
Labels have self-adhesive backing - just peel and stick to a clean, dry surface.
All are printed with UV-stable ink and are suitable for indoor or outdoor use at service temperatures from -40 to +180 F.
These signs and labels are made-to-order, and most orders ship within 2 business days from the ComplianceSigns manufacturing facility.
Click Add To Cart to order this Swimming Pool sign today.
Our NEW AL-Plus Aluminum is a rigid and durable aluminum composite comprised of two sheets of aluminum laminated to a thermoplastic core. It is thicker and stiffer than our standard aluminum, and durable for 10 years outdoors. We are confident you will be pleased with AL-Plus aluminum signs.