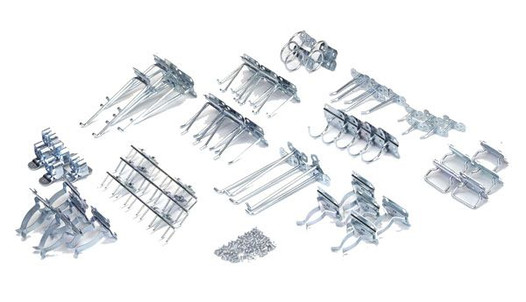 ---
Description
Accessories for SQUARE hole pegboards only
Triton Products, LocHooks Industrial Strength Hooks:
The ultimate building block for organization and storage using the LocBoard system.
These industrial strength hooks with patented 2 and 4-point contact locking mechanisms offer the ultimate in holding power.
Hooks mount in four directions offering storage solutions for nearly any item, while maximizing the use of storage space.
LocHooks can be positioned or combined with one another to increase holding power and offers storage solutions for those odd shaped tools.
Incorporate hanging plastic bins into your system using our patented BinClips.
LocHooks fit most steel boards with square holes 1-1/2" O.C.
The 63 piece kit includes:
(5) Spring Clip / Spray Can Holders
(5) Extended Spring Clips
(5) 6-in. 90-degree Single Rods
(5) 3-in. 30-degree Single Rods
(5) 1-in. 30-degree Single Rods
(5) Standard Spring Clips
(5) 1-3/4 in. Circles
(3) Multi Prong Tool Holders
(5) Hammer / Plier Holders
(5) 2-in. Curved Hooks
(5) 3-in. 30-degree Double Rods
(5) 6-in. 80-degree Double Rods
(5) 3-in. 90-degree Double Rods
LocScrews

LocHooks 63 Piece Hook Assortment Kit