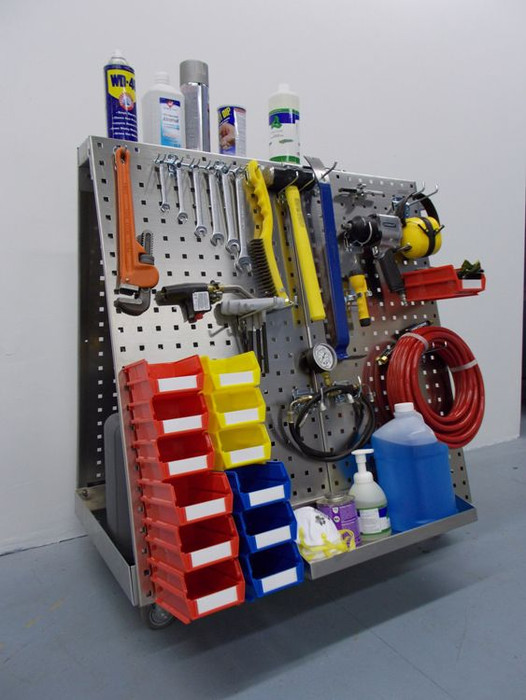 ---
Description
Take your tools on the go with a LocBoard Stainless Steel Mobile Tool Cart.
Is your team wasting time on walking back-and-forth or digging for tools with inefficient and unsafe toolboxes?
This stainless steel organizational tool means your tools and cleaning supplies are always set-in-order no matter where they need to be.
Maximized efficiency with medical, food, and marine environments in mind.
Sturdy construction for on-the-move support built from:
Stainless steel Frame
Stainless steel LocHook pegboards made of 304 brushed stainless steel
No rust, ever! Even with extreme temperature changes.
Specifications for the LocBoard 39 ¼ inch H Stainless Steel Mobile Tool Cart
This mobile tool storage solution features:
Assembled Dimensions: 36.75 in. L x 39.25 in. H x 21.25 in. W
Storage Space: 18 sq ft / 4.9 sq ft tray
Load Rating: 800 lbs. Highest in the industry
Materials: Stainless Steel Frame Stainless Steel Tool Cart with 4.9 sq. ft. Bottom & Top Tray
3-in. Neoprene Casters, Stainless Steel Square Hole Pegboard
Storage surface: 18 sq. ft with 4.9 sq ft of tray storage and a convenient storage shelf at the top of the cart
Triton Products: LBC-18SS
Related Product: Stainless Steel LockHooks (sold separately)
This item ships freight, only within the USA.
Get this mobile tool cart for your facility today and set tools and supplies in order, even on-the-go fast.
NOTE: This large item ships by freight only.

LocBoard 39-1/4 in. H Stainless Steel Mobile Tool Cart