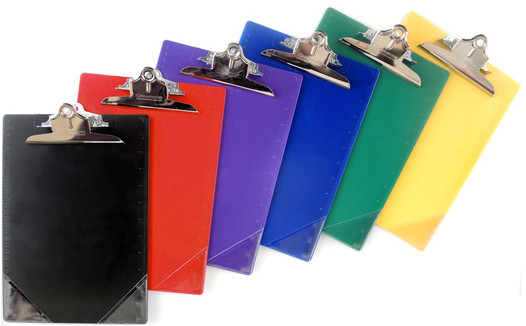 ---
Description
These Color Coded Letter Size Magnetic Clipboard are a great addition to any color coded project you may have going on. Provides magnetic versatility and convenince. Great for your communication boards.

Colors: Black, Red, Blue, Green, Yellow    [NOTE: Purple has been discontinued]
Size: 9" x 12"

Features:
Front of the clipboard features two corner pockets for added hold.
Etched ruler along 11 sides.
Great for magnetic whiteboards!
Three strong magnetic strips on back holds up to 50 sheets to metal surfaces.
Made of hard plastic.
Made from 96% recycled plastic with at least 50% post-consumer waste.
High capacity clip holds up to 50 sheets of 8-1/2" x 11" paper securely.
Built-in hanging hole.
Proudly Made in the USA by Americans who are Blind.

California Proposition 65 Warning: This product contains chemicals known to the state of California to cause cancer, birth defects or other reproductive harm.

Colored Letter Size Magnetic Clipboard