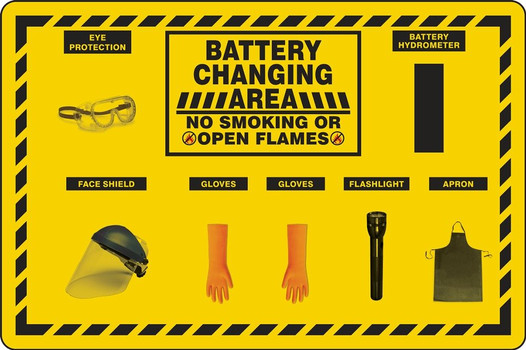 ---
Description
Store Board Keeps Battery Changing Tools and Personal Protective Equipment Organized
Improve the organization and efficiency of your battery changing area with this 5S storage board. The board is designed to hold required PPE and tools for safe battery handling.
Zinc-plated hardware included
PPE and tools not included
Board Size: 24 x 36 in.
Board Material: Ultra Aluma-Lite
Material Details:
Resists impacts, flexing, vandalism, corrosion, chemicals, abrasions and more
Material is 40% lighter than solid aluminum
Core is impervious to splashes and washdowns
Printed surface protected by UV protective coating film
Service temperature range: -58 to +175 F
Material is a UL-recognized component for electrical signage (UL94V-0)
This battery changing area store board sign includes a key safety message as a reminder to users - and helps you meet your 5S organization goals.

Battery Changing Station 5S Store-Board