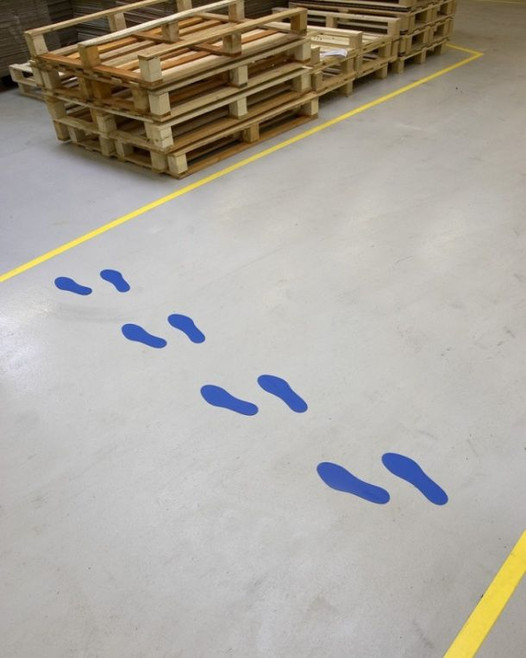 ---
Description
DuraStripe Footprints are perfect for any 5S Set In Order process. These durable floor markings will communicate the safest foot path for pedestrian traffic. DuraStripe Footprints are perfect for guiding traffic flow and ensure a safe distance between people passing, standing in line, or working in proximity to one another. Use them in stores, restaurants, warehouses, assembly lines, and more to reinforce social distancing. Works great in conjunction with Social Distancing Floor Signs.
 
They are so easy to install, you just peel-&-stick!

Size: 9.5" x 3.5"
Qty: Price is per pack of 30 (15 sets). One Set equals 1 left and 1 right footprint.
Colors: Black, Blue, Green, Orange, Red, White & Yellow

**NOTE: Orders for this item shipping to Canada will have slightly longer lead times

NOT RECOMMENDED: The following is a list of applications where the use of DuraStripe is not recommended and could potentially present a safety hazard: Freezers or environments where the ambient temperature regularly drops below 40°F. Any diamond plate surface. Textured or pebbled concrete surfaces. (In the case of a fine grit texture, Supreme might possibly work, but we recommend testing before purchase). Floors that sweat in the summer humidity. Excessively gouged or chipped floors. Covering paint that is releasing from the floor. Stair treads. Not warrantied for outdoor use.

9.5 inch Right and Left DuraStripe Supreme Footprints Set 30/pk