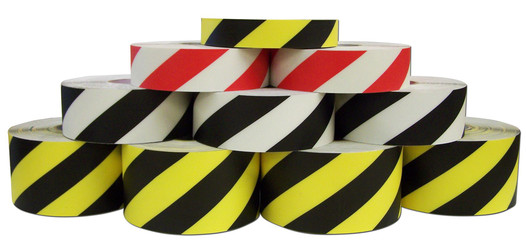 ---
Description
DuraStripe Supreme V is a durable, 36Â mil floor tape made from a tough single layer PVC that will hold up to heavy traffic. The tapered edge helps prevent damage caused by pallet dragging. The proprietary pressure sensitive adhesive provides a superior grip so that you can feel confident it will last.

DuraStripe Supreme V will also hold up to regular cleaning and not fade overtime. Great for your 5S Set In Order phase. Easy to install, simply peel and place this heavy duty aisle marking tape. Great for warehouses, labs, manufacturing floors, Lean Hospitals and anywhere else you may need to add durable visual controls.
 
It's also a great way mark your floors to ensure a safe distance between people passing, standing in line, or working in proximity to one another.  Use them in stores, restaurants, warehouses, assembly lines, and more to reinforce social distancing. Works great in conjunction with Social Distancing Floor Signs.

Size: 2" x 100' x 36Â mil
Color: Black/White, Black/Yellow, Green/White, and Red/White

Specifications:
New building / smooth floors: Superior
Porous Floors: Excellent
Old, oily, dirty, or epoxy Floors: Excellent
Uneven or tiles: Excellent
Beveled edge: Yes
Roll Length: 100 feet
Thickness: 36Â Mils

**NOTE: Orders for this item shipping to Canada will have slightly longer lead times.

Warranty Guide Lines
DuraStripe products are covered by a solid 2-year warranty. Situations exempt from warranty include:
• If DuraStripe product comes up from the floor due to floor not being cleaned or cleaned properly before installation.
• If DuraStripe is pulled up by a pallet being dragged or pulled by a forklift / tow motor.

NOT RECOMMENDED: The following is a list of applications where the use of DuraStripe is not recommended and could potentially present a safety hazard: Freezers or environments where the ambient temperature regularly drops below 40°F. Any diamond plate surface. Textured or pebbled concrete surfaces. (In the case of a fine grit texture, Supreme might possibly work, but we recommend testing before purchase). Floors that sweat in the summer humidity. Excessively gouged or chipped floors. Covering paint that is releasing from the floor. Stair treads. Not warrantied for outdoor use.

2 in. x 100 ft. DuraStripe Striped Supreme V Heavy Duty Floor Tape