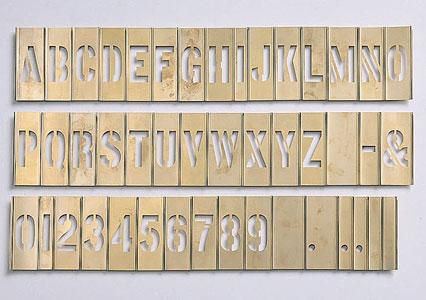 ---
Description
Character Height: 2-1/2"
BRASS STENCILS
Adjustable and interlocking stencils made from brass.
GOTHIC STYLE characters for horizontal composition.
Stencils adjust quickly for perfect character alignment, spacing and clean, bold characters.
Use for marking boxes, crates, drums, pipes, racking or make signs for floors and walls.
Can be cleaned with solvent and should last you a long time!

Figure Available: A B C D E F G H I J K L M N O P Q R S T U V W X Y Z, 0 1 2 3 4 5 6 7 8 9, &, Beginner, Period-Ender, Spacer, Period, Comma, Dash, Plain-Ender

* * Please note this item is not returnable, all sales are final * *

2-1/2" Brass Interlocking Individual Stencil