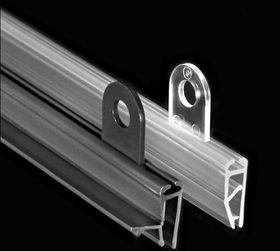 ---
Description
A set of poster hangers include two hangers and two rails made of clear PVC plastic.
- Use one set per poster.
- Size: 18" L x 0.70" H x 0.235" TH
- Color: Clear only
 
This poster rail has a visually discrete profile and is intended to hang lightweight signs weighing up to 20 ounces or .005" to 020" thick.  The quick change design allows you to easily open and close the bottom feed section to add and remove/switch out posters.

18 inch Poster Snap Rails and Clips Set