Make Every School Day a Safe Day
Student safety is always a priority, but it's easy for some elements of school safety to slip through the cracks. School safety signage is a good example. When was the last time anyone reviewed the signs in your facility or campus?
To help you with this important task, we've created a School Signage Checklist that includes all the school safety signs you need to keep your school safe. This FREE checklist can be used by all education facilities from preschools through colleges and universities.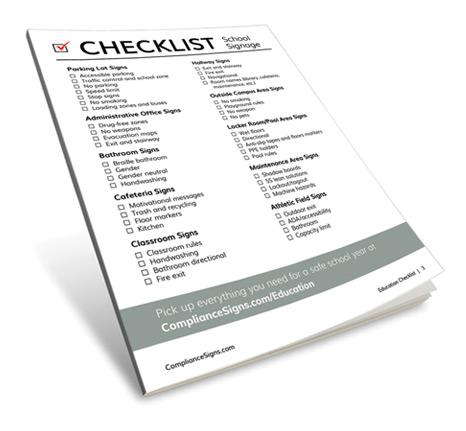 Download the checklist to:
Reduce accidents and safety instances with the appropriate signage

Ensure you don't miss any important school safety signs

Address signage needs for your parking lot, cafeteria, classrooms, playgrounds, locker rooms and more
Complete and submit this form to download your FREE School Signage Checklist