New Signs and Labels

Welcome! This page shows our newest additions of US-made safety signs and labels for business, school, industrial, retail and other uses. Check back often to see what's new at ComplianceSigns.com.
Select a sign for product details, price and ordering information:
(Keep scrolling - we add hundreds of new signs every year! Or, use the Search box above to find just the signs you need.)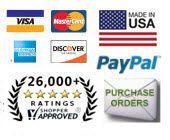 Order online today for fastest service, or contact us at 800-578-1245 or sales@compliancesigns.com.
Don't see the New Signs and Labels you need? Click here to create a custom sign or contact us to discuss your needs.