Machine & Process Safety Signs and Labels - Hot & Burn Hazard Signs

For HOT & BURN HAZARD safety signs and labels, you've come to the right place: ComplianceSigns.com.
Here you can order US-made safety signs in a variety of formats related to hot and burn hazards. Choose an OSHA or ANSI sign category below, or scroll down for other signs: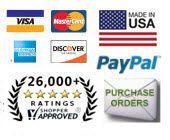 Order online today for fastest service, or contact us at 800-578-1245 or sales@compliancesigns.com.
Don't see theburn hazard sign you need? Click here to create a custom sign or contact us to discuss your needs.