General Chemical Signs and Labels

For Chemical safety signs and labels, you've come to the right place: ComplianceSigns.com.
Browse and buy OSHA, ANSI and other popular and custom safety and warning signs and labels related to Chemical risks. Choose a sign collection below to see Danger, Caution, Notice, California Prop 65 or Pesticides, or scroll down for other popular signs.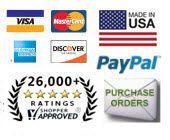 Order online today for fastest service, or contact us at 800-578-1245 or sales@compliancesigns.com.
Don't see the sign you need? Click here to create a custom sign or contact us to discuss your needs.