Severe Weather / Rescue Area Signs

For Severe Weather Safety Signs and FEMA Safe Room signs, you've come to the right place: ComplianceSigns.com

Severe Weather Signs help direct people to safety. Use them to identify tornado shelters, storm shelters and evacuation routes or to share information on weather emergency procedures.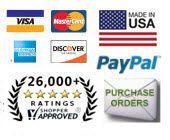 The National Weather Service reports an estimated 100,000 thunderstorms and 1,200 tornadoes occur each year in the U.S., as well as hurricanes and other severe storms. Those are good reasons to prepare your workplace for severe weather. Easy-to-read signs that direct employees and visitors to tornado shelters, evacuation routes, rescue areas or other areas of safety can be invaluable in case of a severe weather emergency.

Here you can browse and buy Tornado Shelter, Evacuation Route, Area of Refuge / Rescue and other severe weather safety signs and labels. Our Storm Shelter and other signs are available in a variety of sizes and materials. All our severe weather stickers and signs are produced using industrial strength materials suitable for outdoor or indoor use. Most severe weather signs and labels are available in Spanish and Bilingual formats as well.
Order online today for fastest service, or contact us at 800-578-1245 or sales@compliancesigns.com.
Don't see the sign you need? Click here to create a custom sign or contact us to discuss your needs.
Information on severe weather and workplace safety: