Pipe Markers - Chemical - AMMONIA REFRIGERATION COMPONENTS

Ammonia Refrigeration Component Pipe Markers, you've come to the right place: ComplianceSigns.com.
All our ammonia refrigeration pipe labels, markers and wraps follow IIAR guidelines and also meet ASME A13.1 color standards.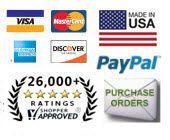 Anhydrous ammonia refrigeration systems are subject to a variety of environmental laws and regulations, including standards for ammonia pipe labeling. The International Institute of Ammonia Refrigeration (IIAR) Bulletin 114, "Guidelines for Identification of Ammonia Refrigeration Piping and System Components," is the accepted standard for marking ammonia pipes, in addition to following ASME color standards.
Here you can order ammonia refrigeration component pipe markers, as well as ammonia refrigeration pipe marker reference charts. You'll also find links to several ammonia refrigeration pipe label references. All our ammonia refrigeration component pipe labels follow IIAR guidelines and also meet ASME A13.1 color standards.
Order online today for fastest service, or contact us at 800-578-1245 or sales@compliancesigns.com.
Don't see the Ammonia Refrigeration Component Pipe Marker you need? Click here to create a custom sign or contact us to discuss your needs.
For information on pipe marker design and installation, review our Pipe Marker Labels and Signs Compliance - Resource Bulletin (pdf).
Ammonia Refrigeration Resources: