NFPA 704 Diamond - Explanation Guides

These full-color NFPA 704 Explanation Guides will help you or your workers understand and apply NFPA ratings.
Our guides are available in a variety of sizes and materials. Choose a chart below for sign options, or click the pdf links at bottom to read the full text of each guide.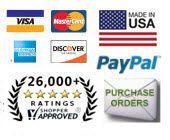 Don't see the sign you need? Click here to create a custom sign or contact us to discuss your needs.