Hand Washing Signs - Clear Labels

Our Clear Hand Washing Labels Can Help Stop Contamination and Illness.
Proper hand washing in kitchens and restrooms helps stop the spread of food-borne pathogens and human illness. These self-adhesive, clear hand wash labels are great reminders for employees and visitors. Use them on mirrors, chrome surfaces or windows.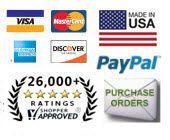 Order online today for fastest service, or contact us at 800-578-1245 or sales@compliancesigns.com.
Don't see the hand washing sign you need? Click here to create a custom sign or contact us to discuss your needs.