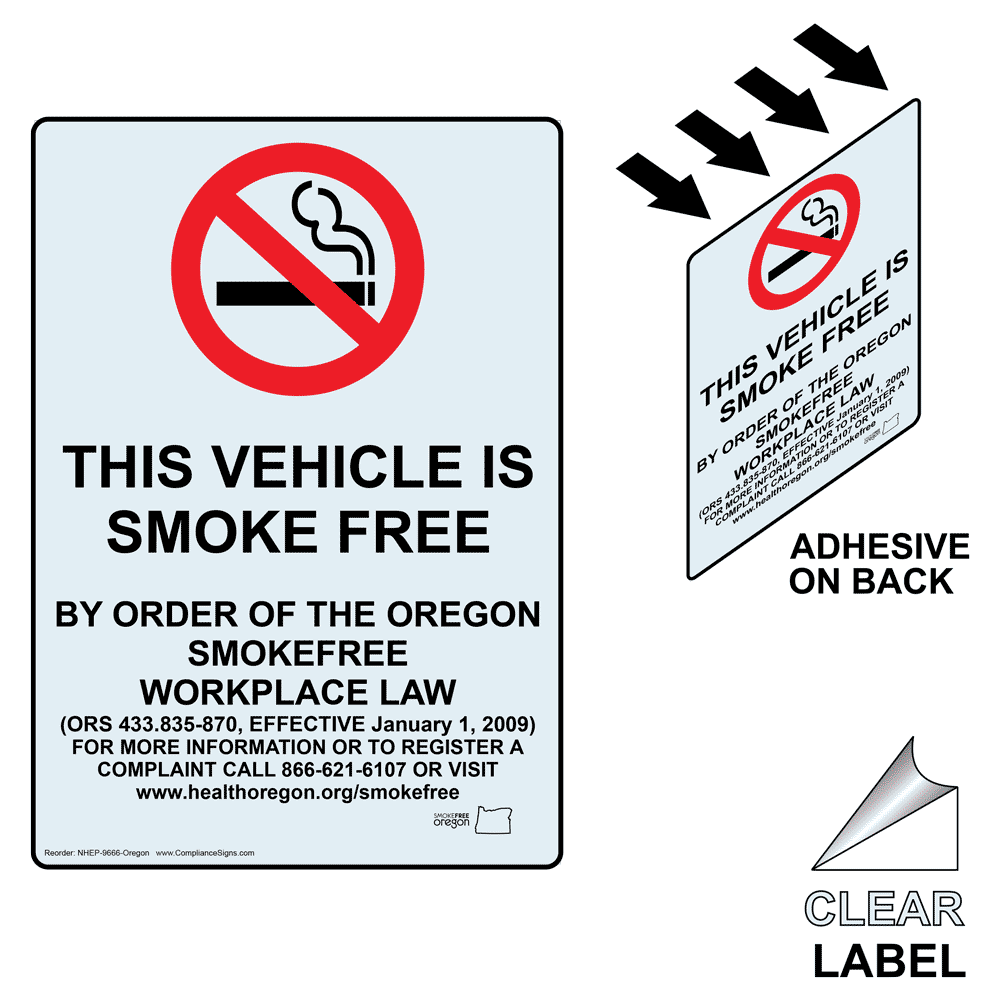 Oregon THIS VEHICLE IS SMOKE FREE Clear Label
Estimated shipping date:
...loading
Product details
---
Mounting option
Self-Adhesive
SKU
NHEP-9666-Oregon
CS954356
Wording
THIS VEHICLE IS SMOKE FREE BY ORDER OF THE OREGON SMOKEFREE WORKPLACE LAW [ORS 433.835-870, effective January 1, 2009] FOR MORE INFORMATION OR TO REGISTER A COMPLAINT CALL 866-621-6107 OR VISIT www.healthoregon.org/smokefree
Description
Clear, Vertical Oregon No Smoking Label or Cling for Windows or Glass Doors
Use this clear, self-adhesive Oregon-Smoke Free sticker / label to easily post your No Smoking message with text and a graphic symbol.
• Mounts on glass doors and windows for viewing from the same side. (Text will be backwards when viewed from the other side of glass.)

• US-made label is printed in bold color on clear vinyl.

• Perfect for glass doors, mirrors, windows or chrome surfaces - just peel and stick.

• Self-adhesive clear label includes permanent adhesive with easy-to-remove backing.

• Substrate choices:

- Self-adhesive clear vinyl label with permanent adhesive.
- Clear window cling with no adhesive - holds by static cling.
(Choose a tab next to the sign to select material and size)

• Vinyl label features a 2.5-mil clear laminate coating that is UV, chemical, abrasion and moisture resistant.

• Labels are printed with UV-stable ink suitable for indoor or outdoor use at temperatures from -40 to +180 F.

• Window Cling is designed for use on indoor glass, but can be used outdoors for up to 3 months. For best results, apply window cling to clean, room-temperature glass.
• For more details on construction, click the Product Data Bulletins tab above and select Clear Labels & Stickers.
• Order your portrait-format Oregon-Smoke Free clear labels today, or use the Create a Custom Sign tab to make your own.
Customers who bought this also consider
---