Weapons / No Weapons Signs

For Weapon Safety signs and labels, you've come to the right place: ComplianceSigns.com.
Here you'll find safety signs and labels about guns and other weapons, concealed carry rules and more. Choices include ANSI, OSHA, reflective and general signs and labels, available in a variety of sizes and materials. Select a Weapons sign collection below to browse signs and labels: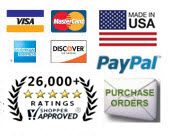 Order online today for fastest service, or contact us at 800-578-1245 or sales@compliancesigns.com.
Don't see the No Weapons or Weapons Allowed Signs you need?
Click here to customize a sign or contact us to discuss your needs.
To check for state-required handgun / weapons / concealed carry signage, visit our Compliance Resource Bulletins page, then select a state.