Service Animal and Pet Rules Signs

For Service Animal and Pet Rules signs and labels, you've come to the right place: ComplianceSigns.com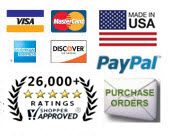 Service animals are not pets, and the Americans with Disabilities Act (ADA) requires businesses and organizations that serve the public to allow people with disabilities to bring their service animals into all areas of the facility where customers are normally allowed to go. This federal law applies to all businesses open to the public, including: restaurants, hotels, taxis and shuttles, grocery and department stores, hospitals and medical offices, theaters, health clubs, parks and zoos. Service Animal Notice signs and labels from ComplianceSigns.com can help you avoid violating this law - and let your customers with disabilities know their service animals are welcome, while other pets are not. Choose a Service Animal sign below for full product details:
Order online today for fastest service, or contact us at 800-578-1245 or sales@compliancesigns.com.
Don't see the sign you need?
Click here to customize a sign or contact us to discuss your needs.
ADA and Service Animal Resources:

All the signs you need for ANSI, OSHA and more.
Whether you're looking for Service Animal or other signs, specific ANSI or OSHA signs, or general or custom signs for your business, you'll save time and trouble when you shop ComplianceSigns.com.. All our signs are custom manufactured in the U.S. from highest-quality materials.

It's easy to search our inventory of more then 60,000 SKUs from your desktop, including: Fire and Safety, Caution, Danger, Warning, Directional Exit, First Aid, ADA Restroom signs, NFPA hazmat diamonds and more. Or custom order from our easy-to-use online sign design page.