Exit and Entrance Signs - Ceiling Mount Projection Signs

Ceiling-Mount EXIT & ENTRANCE signs from ComplianceSigns.com project down from suspended / drop ceilings for easy viewing from either side.
They mount easily between ceiling tiles and tracks. All are made of sturdy aluminum and available in varied sizes with your choice of reflective or glow-in-the-dark finishes. Many are available in English or Spanish.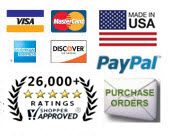 Select a Ceiling Mount EXIT & ENTRANCE sign below for product details and ordering information: