Hand Washing Signs - Instructions

Instructional Hand Washing Signs Can Help Stop Contamination and Illness.
These easy-to-read signs show everyone proper hand washing technique to help stop the spread of harmful germs. They're great for restaurants, medical offices, daycare, schools or anywhere contamination is a concern. (Read more below.)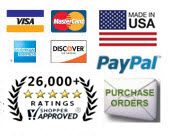 Select a Hand Washing Instructions sign for product details and pricing:
(Click the magnifying glass to see a larger image.)
Don't see the Hand Wash sign you need?
Jump to our Custom Sign configuration page to create one, or contact us to discuss your needs.


Helpful Hand Washing Information:
Frequent hand washing is one of the best ways to avoid getting sick and spreading illness. These articles on hand washing provide additional information you may find useful:
- Learn how hand washing can help prevent illness article by Mayo Clinic staff.
- Clean Hands Save Lives information by the Centers for Disease Control (CDC).
- Hand Hygiene Information and Guidelines at the CDC.
- Wikipedia article on hand washing.