Hand Washing Signs - Clear Labels

Our Clear Hand Washing Labels Can Help Stop Contamination and Illness.
Proper hand washing in kitchens and restrooms helps stop the spread of food-borne pathogens and human illness. (Read more below.) These self-adhesive, clear hand wash labels are great reminders for employees and visitors. Use them on mirrors, chrome surfaces or windows.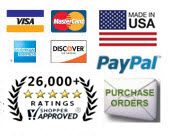 Select a Clear Hand Washing Label for product details and pricing:

Don't see the Hand Wash label you need?
Jump to our Custom Sign configuration page to create one, or contact us to discuss your needs.


Helpful Hand Washing Information:
Kids aren't the only people who need hand washing reminders. A hand hygiene study conducted in 2010 found that 15 percent of American adults don't wash their hands after using a public restroom. Here are some links to other hand washing information you may find useful:
- The ASM and ACI hand washing study mentioned above.
- FDA Fact Sheet on Hand Hygiene in Retail & Food Service Establishments
- Learn how hand washing can help prevent illness article by Mayo Clinic staff.
- Clean Hands Save Lives information by the Centers for Disease Control (CDC).
- Effect of hand washing on child health, a trial report published in The Lancet medical journal.