Hand Washing Signs - ANSI

ANSI Hand Washing Signs Can Help Stop Contamination and Illness.
Proper hand washing in kitchens and restrooms helps stop the spread of food-borne pathogens and human illness. These easy-to-read ANSI hand wash signs will remind employees and visitors to wash up and keep your workplace healthy - and in compliance. (Read more on hand washing below.)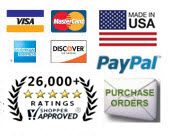 Select an ANSI Hand Washing sign for product details and pricing:
(Click the magnifying glass to see a larger image.)
Don't see the Hand Wash sign you need?
Jump to our Custom Sign configuration page to create one, or contact us to discuss your needs.


Helpful Hand Washing Information:
Kids aren't the only people who need hand washing reminders. A hand hygiene study conducted in 2010 found 15 percent of American adults don't wash their hands after using a public restroom. Here are some links to other hand washing information you may find useful:
- More on the ASM and ACI hand washing study mentioned above.
- FDA Fact Sheet on Hand Hygiene in Retail & Food Service Establishments
- Learn how hand washing can help prevent illness article by Mayo Clinic staff.
- Clean Hands Save Lives information by the Centers for Disease Control (CDC).
- Effect of hand washing on child health, a trial report published in The Lancet medical journal.