Electrical Safety Signs and Labels - Voltage & Shock Hazard - Voltage Labels

Our black-on-orange Electrical Safety / Voltage labels conform to ANSI Z535.1 standards for Safety Color Code. Select a standard label or use the Custom Words link to create your own.
Choose a label below for product details and ordering information: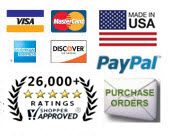 Don't see the sign you need?
Click here to customize a sign or contact us to discuss your needs.